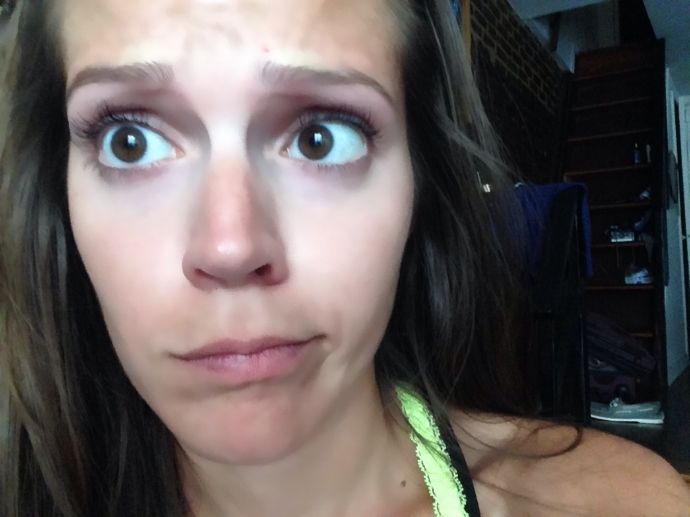 {Somehow my mom doesn't freak out when I send her photos like this to show off my new discovery, and luckily she loves me.}
Eyebrows are getting a lot of attention these days. They've really always had the same impact, but thanks to some noticeably famous arches, pretty suddenly big is back in. I have a love hate relationships with my eyebrows, and luckily we've recently gotten on better terms. While I've always been a regular eyebrow waxer who even enjoys the slight pain (am I crazy?) I recently converted…
My right eyebrow is a perfectly arched dream. It has the soft slightly upward curved hairs that rarely fall out of place and a plush texture. My left eyebrow is a grossly out of line second cousin. The hairs are longer and slinkier. There is a strange cowlick, runaway growth, and a slow extended arch. In 7th grade I asked my mom if I could get my eyebrows waxed like she did. It was before my first school dance and all of my friends in Australia were into some eyebrow grooming. My mom rarely turned down a request like this, but did saying it would make me look too mature. Not a fan of this answer, I attempted to wax my own eyebrows with duct tape in my room. It was a sticky failure. Instead I sneakily borrowed a pair of tweezers and did some very minor pruning of my own.
Fast forward a few years and my mom introduced my sister and me to her waxing expert Kim at the Macy's salon. Kim was a super perky woman in towering heels who coaxed these brows into submission. In the early 2000s thin brows were in, and she worked her magic with wax, tweezers, and the occasional trim. When I moved to New York I was absolutely shocked to find how inexpensive one of my now favorite pick-me-ups was. I could slip into a salon and for $7 leave feeling primped and refreshed. What I quickly realized was nobody was getting these arches quite in-line the way Kim did, and with a few burns. I tried a few more expensive spots including Benefit and even Boom Boom Brow Bar before my wedding. While they were an improvement, $25-$30 seemed like a stiff price when I would have to do a little finishing work at home.
Then one day it all changed when I stumbled into Thread Salon. The woman quickly told me I should do threading instead. I had always been a little disgusted by threading since it appears the thread is in the esthetician's mouth (gross!) but I was drained and just nodded. While I actually enjoyed the quick rip of waxing, the incessant pain of threading made my eyes water uncontrollably. I pulled my skin taut as the woman instructed, and felt slightly nauseous and light headed when I opened my eyes, complete with a rush of tears. However, all of this became void when she handed me a tiny hand mirror. With minimal redness I had perfectly coiffed arches. Even the left second cousin swept beautifully in- line, with no stragglers near the temples. I happily handed over my $8 (!!), picked up a frequent visitor card, and strutted on home. Consider me converted.