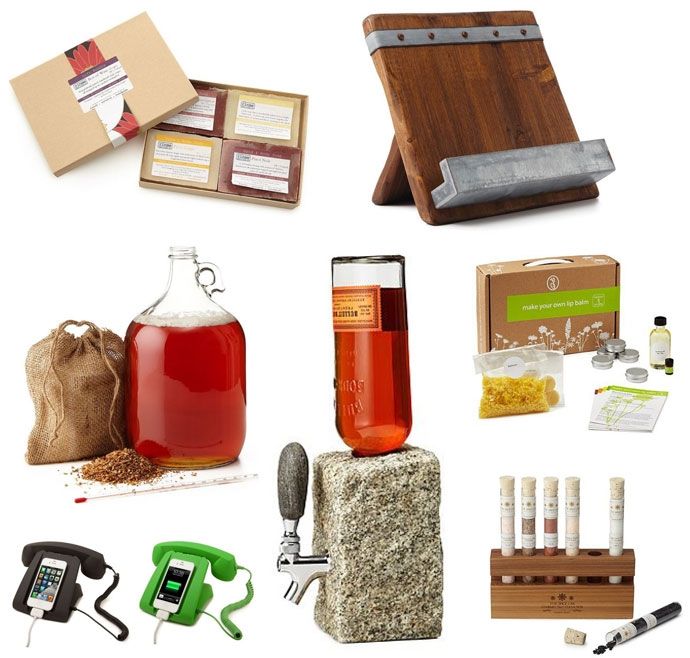 I am not doing a full gift guide this year because, let's be honest, I've barely started shopping. Maybe we'll do a last minute list mid-month? Either way, while online browsing yesterday, I did come across one gift solution for all of those super-tricky-giftees this season. For me these include most of the guys in my life. Aren't they always the hardest to shop for me? I think it is mostly due to the fact that they don't always love clothing presents, which are my favorite gift go-tos. With this in mind I present…Uncommon Goods. This online shop is an absolute treasure chest of unusual presents for the quirky, off-beat, or just hard to shop for on your list. From indulgent ingredients to personal bar pieces and DIY sets I could spend hours adding to cart. Here are a few of my current front runners:
Perfect for… in-laws: These wine scented soaps are a quirky twist on a traditional hostess gift and would be beautiful in a guest bathroom.
Perfect for… your chef aunt: My mom's cookbooks are caked in dough with pages constantly getting stuck together. Whether your cook uses books or an iPad this stand is pretty enough to leave out on the island.
Perfect for … your 20 something brother: My sister gave my dad a home brewing kit one year and he loved it. This IPA version is great for your hop loving brother.
Perfect for … your bourbon-loving beau: This stone drink dispenser is such a cool idea and would actually look attractive on your shared bar.
Perfect for… you tween cousin: DIY lip balm kit? I would have gone nuts for this as an early teen.
Perfect for…your college bound sibling: When your phone is literally docked in a larger phone they have no excuse not to phone home.
Perfect for… your foodie uncle: We recently added some black and grey salt to our spice cabinet and they make a simple weeknight salad feel so much fancier. Any foodie would love a full set of salty options.