The legitimate super model turns 40 today, and before street style even became a "thing", she's been a constant source of style inspiration on and off the job. Setting the standard for bedhead, natural makeup with a smudged smokey eye, and causing a sudden rush for Wellies, this lady knows what works. Below are a few of my favorite looks from the model off duty and what makes them just.so.good.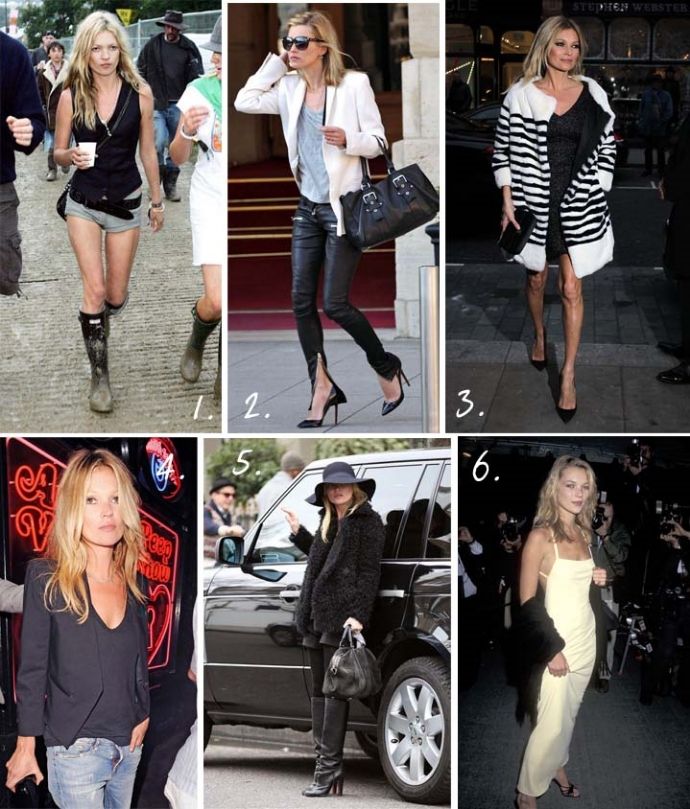 1. The Wellie: I'll fully admit, I didn't own (or really recognize) a pair of Hunter boots until Kate Moss caused a photo frenzy stomping through a British music festival.  Clearly they are practical for the occasion, but they also draw just enough attention to makes jean shorts and a tank look so cool.
2. Signature Edge: There is so much to love about this look. Firstly, Kate is known as much for her signature bedhead as anything she has ever worn. The 'do provides a roughed up edge to everything from gowns to sleek blazers. Since her hair in this look is much sleeker, those awesome leather pants provide the signature edge. Also, Kate's pants ensembles almost always include a thin tee that provides the perfect base layer for accessories.
3. Statement Coat: Did you even notice the LBD beneath that giant fur coat? Neither. Kate always nails her outerwear.
4. Jeans for Days:  I would argue that Kate Moss actually started the boyfriend jean and stiletto combo that has become a casual night out standard. She often balances it with a wispy tee and blazer. (Also her fly is down in this photo. I barely even noticed, but probably won't be trying that.)
5. Layer Up: Kate is a pro at layered looks and sticks with neutrals to keep the look sleek. Also, that hat? Yes please.
6. The Slip Dress: The slip dress is Moss' signature evening look and with her wispy body type it always works. It's definitely a lesson in less is more sexiness no matter what you choose to wear.