Last night's episode of The Mindy Project included the always enjoyable office holiday party. While the episode itself was hilarious, I was fairly preoccupied with the incredible dress Mindy wore for the occasion. The dress is a custom creation by her costume designer and perfectly captures sexy sophistication (take that Danny!) Firstly, I love that this dress isn't black. It is so challenging to find great cocktail dresses in color, but the search certainly pays off. Secondly, I love the flattering neckline and subtle cut-out. The currently trending high necklines just don't work for me and never feel as fancy and special. Finally, I love the combination of impeccable tailoring and the midi hemline. The fact that the dress is a custom creation definitely helps in the fit department, but I'm sure that this is also a thick, structured fabric to hug rather than cling.
After scouring the internet, I really can't find a dress that perfectly hits all of these categories (not to mention the beautiful crystal detailing on Mindy's piece!) However, I did find three that I would definitely sip champagne in for my next holiday party. I'm also crossing my fingers that her costume designer finds the time to create his own line…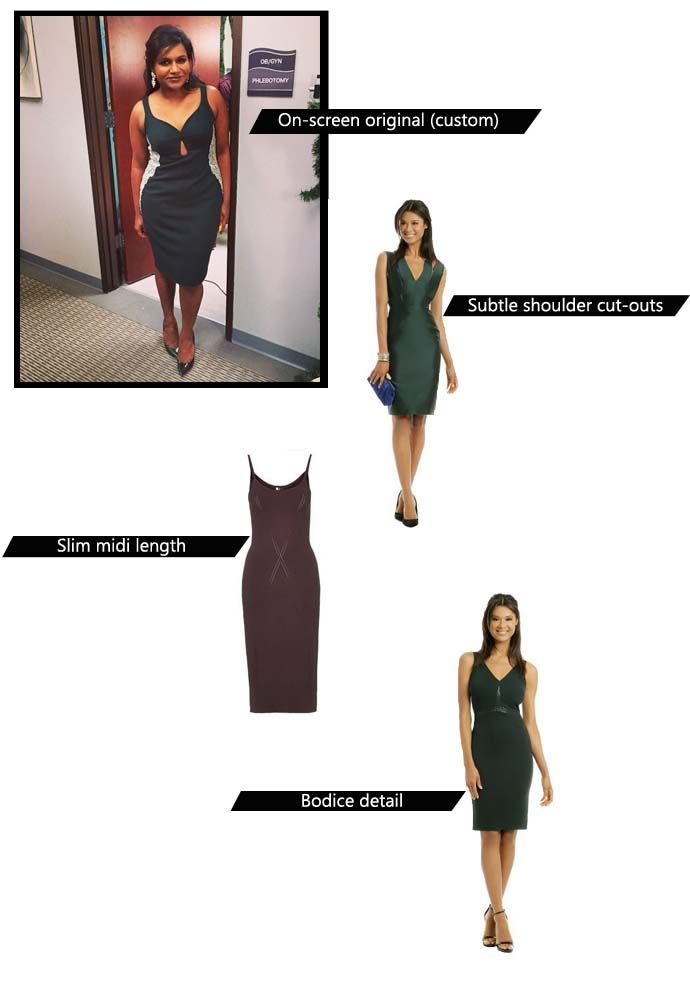 It's incredibly difficult to find a dress this unique at a reasonable price point, however there are several great options to rent for a special occasion. This Cushnie Et Ochs dress has the same rich green color and subtle cut-outs on the shoulder.
Rich burgundy is another great holiday dress options, and this wallet friendly midi dress could easily be dressed up with some festive gems. The seaming detail also plays flattering tricks on the eyes.
Another rental option, this David Meister dress has a pretty textural detail on the bodice and that same gorgeous holiday hue.