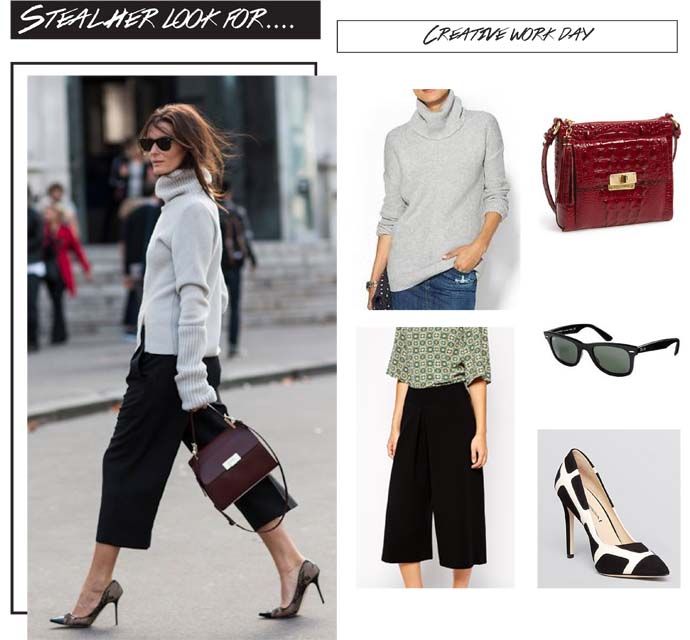 Oooph Monday, you do love to sneak up on a girl don't you? For those mornings where the last thing you feel like doing is climbing out of bed, let alone washing your hair, this is a look to keep on repeat. I think everyone raised an eyebrow when culottes made a comeback (grade school gym class anyone?) but this season's version is more wide leg capris than bunched up bermuda short. Now grab a sweater with equal parts tailored silhouette and snuggle factor plus a double espresso. Wayfarers may not make the cut in Monday's status meeting, but they'll steal you a few more minutes in bed before you swipe on some concealer at your desk. Here's to a great week!
– Culottes can easily toe the line between terribly unflattering and calf skimming chic. I vote for a pair that hits mid shin or lower and a gradually flared silhouette instead of a full length wide leg. This Elizabeth and James pair may be my favorite, but the above black staples are stylish and far more budget friendly.
– While I love this lady's exaggerated sleeve length, I would tidy up the structure for the office. This slim turtleneck has the length I love with a tight knit and loose neck.
– The punchy color of this bag will wake up any morning, and the clean lines are definitely commute worthy.
– These pumps are obviously not an exact match, but I actually like them more. This is not an animal print you often see, but I supersized black and white motif feels fun and neutral (a tough pairing!)
– Sunglasses because it's Monday, enough said!