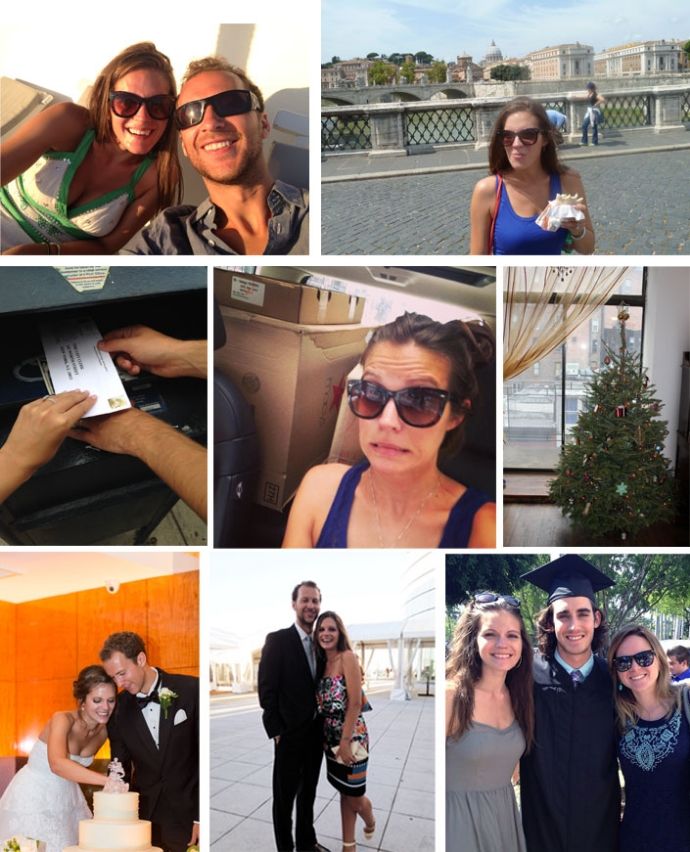 Oh 2014, what a year it was! As I'm settling back into NYC after a great holiday break with family, I thought it would be nice to reflect on the last twelve months and wrangle in my ideas for 2015.
2014 kicked off with my fiancee and I having a delicious dinner at home before cozying up to the corner seats of our favorite bar while our friends passed us beers and champagne at midnight. I'm pretty sure I wore faux fur since that has become a New Year's trend, and someone tried to repeatedly sell us light up spinners and flowers.
The spring months whizzed by in a blur of work and the boy attending class. We moved into our new apartment early in the year and Charlie settled into his downstairs bachelor pad after a very frightening fall down our deathly steep stairs.  In mid May I flew to Miami to celebrate my baby brother graduating college (crazy!) and arrived home just in time to bid my fiancee adieu for the summer. He was relocating to Los Angeles for the summer, and we would become ever greater technological gurus planning our wedding across the country. The very next day I celebrated my birthday with Charlie Dickens.
This summer was a crazy, exciting, and emotional few months. Over Memorial Day weekend I headed west to visit my soon-to-be husband in his temporary LA digs. While he worked, I soaked up the sunshine, got lost on the highway in his car, and worked from his garage studio. I burned through middle school-earned frequent flyer points to make the trip a few more times throughout the summer, and thoroughly enjoyed attempting to be a SoCal local.
Just after 4th of July (and my now husband's bachelor party!) my brother relocated to New York. With the boy's space in the apartment vacant my brother took up residency on my couch for 6 weeks. It is very rare to get to live with a sibling again once you have both moved away from home, and although it was very busy, I consider myself so lucky. We explored the city and my neighborhood, hung out watching Real Housewives (what a sport) and he got my arms in the best shape of my life with some pretty intense "convict-style" workouts at the park.
In July I also had two beautiful bridal showers where I officially felt like the bride to be. So many of my old friends from Louisville got married years ago, and yet they all came to my shower with their babies in tow to celebrate my big day. I love that for so many of us, 5 and 10 years later, we pick up right where we left off. The month wrapped up with my sister throwing me a, dare I say, epic bachelorette party in Nashville. I adore country music and pretty much listened to it live for three days straight. We kept the group small, the music loud, and the drinks and greasy food frequent.
My husband-to-be arrived back in New York exactly one week before our big day. We had a final planning meeting with the venue, and spent a few afternoons making seating signs and tying programs. Mostly though, we hung out and enjoyed final dating date-nights in the city. It was such a fun week, and as my brother perfectly said in his speech, it was great to see how excited we were. I plan on doing a full post of our wedding early this year so let's just leave this as quite simply the best day ever.
The Sunday after our wedding we jetted off for a 9 day honeymoon in Europe. I fell in love with Rome in our first four days. Every day we would oversleep for breakfast and set out exploring before undoubtedly walking way too far. We would normally catch a quick nap before hopping across the square to pick up cheese, speck, and some wine or prosecco to enjoy on the rooftop as our apertivo (love this habit.) We would then change and nab seats on the square for an Aperol Spritz before overdosing on pasta and saltimbocca. Rinse and repeat for four days. We then hopped a flight to a change of scenery in Santorini. The view from our hotel was absolutely breathtaking. On day 1 we attempted to walk around the island, hike to a beach, and I made myself sick with dehydration. On day 2 we rented a four wheeler and spent the next 3 days zipping around the island, checking out beaches, cafes, and generally having a blast.
We arrived home just in time to hop a flight to Wisconsin for the wedding of two of our great friends. If I thought our courtship was long, they far surpassed us. The wedding was beautfiul with a fantastic 80s coverband, plus I got to rewear my rehearsal dinner dress that I adore.
The fall arrived with all of the beauty that New York brings. My now husband headed back to school and I settled into a new routine.  The next few months as a married couple were a balance of relishing married life and adjustments in real life.
In one sense 2014 felt like an incredibly long year, and in another it seemed to fly. I can say that I grew tremendously this year, and had without even slightly exaggerating, once-in-a-lifetime-never-want-to-end moments. While I'm not for grandiose resolutions, I do have a few goals for 2015 that I am still tweaking and confirming. Here's to a fantastic new year!