In case you hadn't noticed, we have exactly one week until Christmas. So if you are a little late in your gift shopping (guilty), as promised, I have assembled a quick last minute gift guide. Whether you're just starting or have a few stragglers left needing stocking stuffers, these should help you wrap up the list.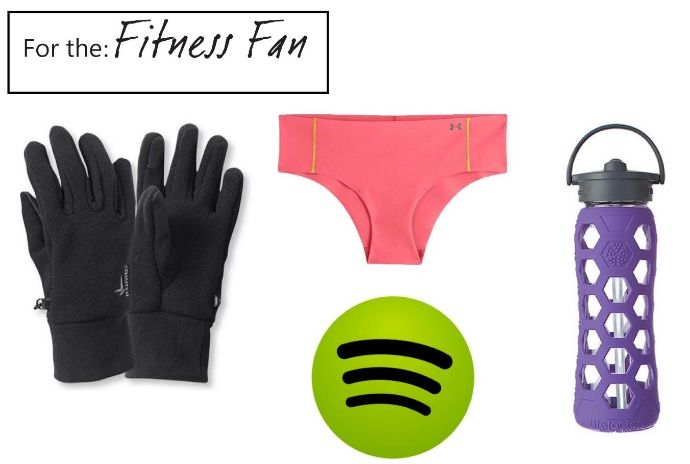 Gifts for a fitness fan should be a little luxurious, indulgent to their chosen hobby and not overly technical (don't even try buying running shoes if they are a seasoned jogger.)
– These gloves allow your favorite runner to change their iPod list without slowing their pace to yank off gloves. Plus they wick away moisture, so their fingers will stay toasty on a long training day.
– There are few things worse than a running wedgie, and these undies have rave reviews for full workout comfort. Just make sure you know the recipient well!
– If you know that your workout buddy doesn't have Spotify premium, gift them a few months. Many gyms in NYC (mine included!) have underground workout equipment so the free streaming service cuts out. This is a serious game changer.
– A glass water bottle is arguably the healthiest, but not optimal for a gym. This one has a safety bubble and a flip out straw.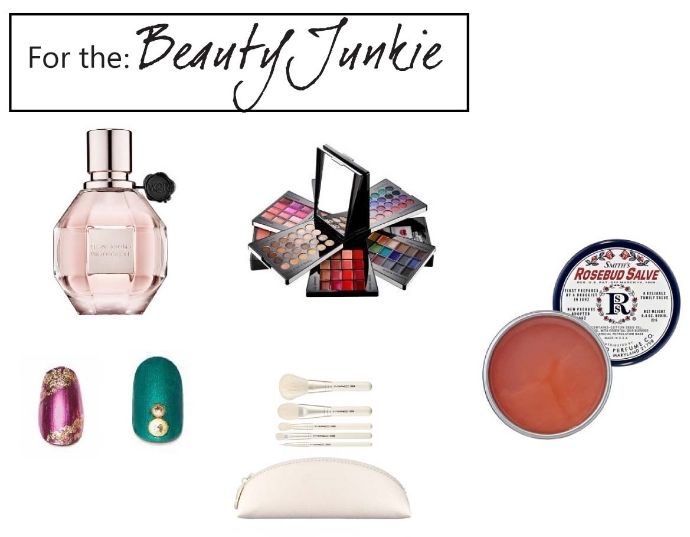 You don't have to know the perfect lipstick for their skin tone to gift your beauty junkie a gift they'll actually use.
– If you know their go-to daily fragrance, gift a refill in a pretty bottle.
– I loved these crazy makeup kits as a kid, and Sephora has plenty of colorful kits to play with as adults too. My mom gave me one last year and I love dabbling in it for a night out.
– Few people can shell out for a $55 mani, but these Paintbox designs are insanely gorgeous? Definitely a luxurious gift for a city local.
– Quality makeup brushes will be a perfect companion to your friend's favorite products.
– Create a goodie bag of some of your favorite lotions and potions (like this dry lip saver!)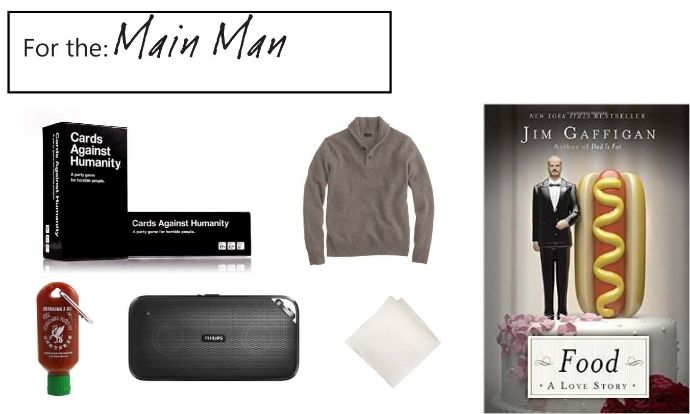 You probably have a few guys left on your list because they are just so hard to shop for!
– This game is crude and hilarious, perfect for guy time or as an ice breaker when playing host.
– A shawl neck sweater looks good on everyone and instantly upgrades the style of anyone who made need a little…boost.
– A manly foodie love story, perfect for chilly weekend reading in January.
– My husband puts hot sauce on everything from eggs to pizza, now he can take it to go.
– This is so much sleeker than our current iPod dock, plus if your guy has to travel for work, this can easily slip in his carry-on.
– I love that pocket squares have come back. Last year I monogrammed my dad's initials on a set of handkerchiefs, and you could do the same with a single pocket square.
I'm hitting the streets to wrap up my shopping tomorrow, good luck!