Piperlime is my not so secret go-to site for internet window shopping. They always have the perfect on-trend-but-not-on-everyone piece for which you're searching with a great mix of prices. Unfortunately, I think this habit is only going to get worse with the new site revamp.
When working in eCommerce you're constantly on the lookout for fresh new retail sites. What are they doing to keep their audience lingering, clicking, and hopefully converting? In my opinion, Piperlime just jumped way ahead in the race. Here are four things I'm loving right now on the new site:
– Celeb picks: Piperlime has had Olivia P. editing collections for a while, but they have now added a handful of new and incredibly stylish additions to their site. I wasn't really familiar with some of the personalities (as an !E addict this rarely happens) but I love the mix of personal styles and shopping selections. Also, someone once told me that no shopper actually wants to read. I give this a resounding false and love the Q&A at the top of each capsule edit.
– Shop Social (that works!): It seems like eComm sites have been trying to successfully integrate social feeds in a meaningful way for about the last decade. Here it actually works. Also, I actually clicked on the style collage on the homepage twice, and got different results! It seems simple but constant discovery will definitely keep this shopper coming back.
– Curated Vintage: This is something totally new for Piperlime and I'm really curious to see how it works. Personally I'm not much of a vintage shopper (I frankly don't have the patience) but these super luxe pieces look gorgeous.
– Piperlime Collection: It feels like they've had it all along, but Piperlime finally launched their own collection! Unlike some of their in-house labels (Tinley Road) the Piperlime Collection is a tight edit of seasonal pieces that hits all of the right notes.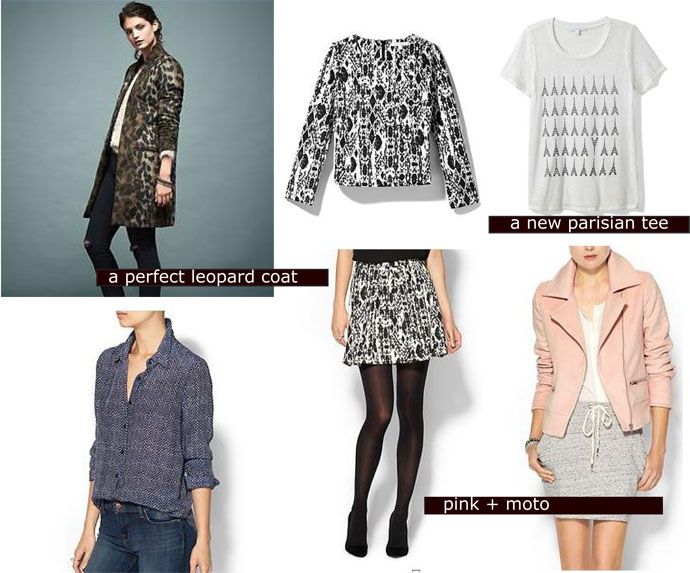 My current favorites from the Piperlime Collection…
The perfect leopard coat: I adore the infamous Malene Birger leopard coat, and this one has a more casual style (and price tag.)
Sweet separates: This skirt and top pairing would be adorable together and apart for fall, and there are several other color options.
The new parisian: The "Oui Oui" tee is everywhere. This one is just as fun and a little more subtle.
Button-up: Lots of prints in a style staple.
Pink Moto: I fell in love with a very similar moto jacket from Anthropologie last year but didn't go for it. This one just may take its place.
P.S Everything is under $200 – extra bonus!