Discovered is a series capturing new to me findings in fashion, food, beauty, or the fun niceties of life. They may be new, or they may just be new to me (and maybe you.)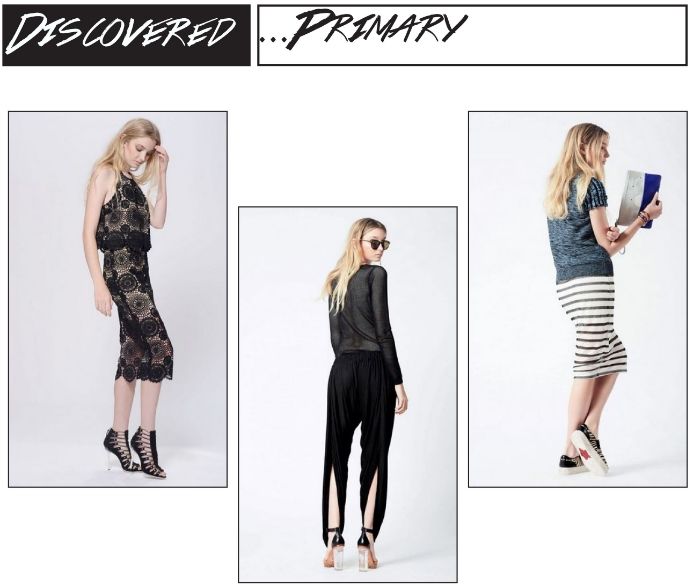 This is really a lesson in rediscovery. I first came across PRIMARY on The Glamourai when she began styling their photo shoots years ago. As with many of the shoots Kelly styles, the lookbook was a cool mix of sophisticated edge, and led me to spend a good deal of time perusing their site. However, due primarily (no pun intended) to the price, I left the site as a source of inspiration rather than shopping.
Last week something led me to check out the site again, and I was pleasantly surprised by a series of updates. The first, and most noticeable change, is that the price of their pieces have dropped dramatically.  There are more than a few unique easily mixable pieces falling under the $150 mark. After noticing this I quickly hopped over to the about page to see what had changed, hoping it was not a shift toward lower quality fabrics and questionable manufacturing. What I found instead was a shift in the brand's thinking of retail, how they would reach their consumer, and how their own fashion calendar would stand. In their own words…
The new PRIMARYNY.COM is here!  By Spring of 2014 we shipped our last apparel wholesale delivery.  By no longer wholesaling our apparel line we have effectively cut-out the middle man.  What does that mean for you? Higher quality fabrics, better garment construction through our all-USA manufacturing ( 80% is produced in New York ), much lower prices since there's no retail markup, and monthly fashion editorials; that you can see now / wear now.  No more 6 months waiting for our collection to hit stores.  We are designing in-season, and producing small batches at our local factory in New York.  We will also begin to slowly add new designers to our shop this Fall; designers that excel in their specific category for a broader scope of the PRIMARY lifestyle; all united by aesthetic. 
Since working for Marla Cielo I am completely fascinated by local manufacturing and the New York garment district. Plus, although I may day dream seasons ahead, I am definitely of the buy now / wear now mindset! A few of the pieces that grabbed my current fall shopping brain were this semi sheer lace set, an ultra cool pencil skirt, and the pants that may convince me to give harem pants a whirl (love!)